Whenever you need to restore a car's glorious look as a DIYer or professional automotive painter, grabbing a paint gun will save you lots of time and ensure you have a more refined finish that you wouldn't get with other outdated methods like using a paintbrush. 
But choosing the right automotive paint gun isn't a straightforward undertaking, especially if you don't know how to choose or shop for a good one. This handy guide will take you through the process to help you select an ideal automobile paint gun.
At a Glance: Our Top Picks for Automotive Paint Guns
Comparison of the Best Automotive Paint Guns
IMAGE
PRODUCT

Our Top Pick

2-stage motor allows for spraying thicker paints
Feed System: Gravity
Working Pressure: 5 PSI

View Latest Price →

3 adjustable valves to control pattern
Feed System: Gravity
Working Pressure: 10 PSI

View Latest Price →

Best Automotive Paint Gun for the Money
Feed System: Siphon
Working Pressure: 50-60 PSI

View Latest Price →

Best Automotive Paint Gun for Beginners
Feed System: Gravity
Working Pressure: 10 PSI

View Latest Price →

Best HVLP Spray Gun for Automotive Paint
Feed System: Gravity
Working Pressure: 26 PSI

View Latest Price →
How to Choose an Automotive Paint Gun
When shopping around for a great paint gun for cars, it's advisable to know beforehand what to look out for to make the selection process a breeze rather than a headache. Here's what to know to be on the safer side. 
Variability of Tips and Caps
You will want a car paint gun that offers you as much adjustability as possible. The level of adjustability will differ from one model to another. 
The most common way to enhance the adjustability options for paint guns is to use tips of different sizes to suit varying thicknesses of different paints or spray materials. The caps may also be adjustable, especially in an HVLP paint gun. 
Some paint guns will offer pressure adjustment control options to regulate the pressure and speed of the paint stream. This ensures minimal overspray and reduces paint wastage.
Type of Feed System
Automotive paint guns have two major feed systems. A gravity feed spray gun system is more common as they require less air pressure to operate. They are the better choice for all standing positions that you assume when painting your car. 
Conventional feed systems (also called siphon-feed systems) are preferred when you want to hold more paint in your gun, making them bulkier than gravity-fed paint guns. 
Conventional feed paint guns are the better option for all other non-standing positions, such as when you have to paint components on a vehicle's underside.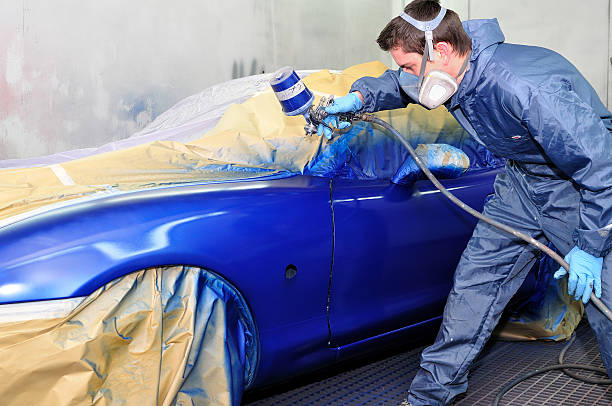 Design, Weight, and Portability
A paint gun's design, size, and weight affect its portability. If your spray booth is spacious, you won't have to worry much about how much space the gun requires, as long there is enough for you and the gun to move around as necessary. 
The paint container capacity, motor's size, and construction material will determine how heavy or light the gun is. A gun with a small paint container capacity will be lighter, as will a gun made of more plastic than heavy-duty metal. 
The best approach is to find a paint gun that strikes a good balance between size and weight to ensure as much ease of portability as possible. 
Flow Rate and Hose Length
The flow rate of a paint gun will depend a lot on its power rating. A paint gun with a high power rating will have a higher flow rate, and you'll want this since painting a car with a low flow rate can be a pain. It would take you longer to paint a sizable car. 
You'll also want to consider the hose length when painting cars with paint guns. Some cars may be high, but the general size is at least five feet in length. 
A paint gun with a longer hose is better as you can cover more of the car's body without the need to move the gun all over the place. 
Key Terms to Know
To help compare products in this review, we have included a few key specifications for each. Here is a quick summary of what they mean!

Feed System: The way the paint feeds into the sprayer. This includes bottom feed, top feed, siphon feed, and gravity feed methods.

Working Pressure (PSI): The pressure at which the sprayer pushes paint out the nozzle.


Weight: The actual weight of the sprayer assembly.


Flow Rate (CFM): This stands for the number of cubic feet per minute the sprayer can produce during peak performance given the recommended air volume.


Capacity: The amount of paint the sprayer can contain at a time. Measured in CCs, gallons, quarts, or cups, depending on recommended application type.


Nozzle Size: The size of the opening of the nozzle tip.
Review of the Best Paint Guns For Cars
Selecting a great automobile paint gun doesn't have to be a chore once you know how to choose one and have a handy list of the best models on the market. Be sure to read through our list and come up with a favorite model suitable for your specific needs. 
Fuji Spray Semi-PRO 2
Specifications
Feed Type: Gravity
Weight: 26 pounds
Working Pressure (PSI): 5
Flow Rate (CFM): 100
Capacity: 400cc
Nozzle Size: 1.3mm
We may earn commission from purchases made from our links, at no additional cost to you
Review
The Fuji Semi-PRO 2 is a great choice for car painting because of its two usage options. You can easily convert it to a bottom feed gun, which is more suitable for painting odd car parts such as underside components. 
The sprayer is also fairly lightweight and easy to move around the workstation to help you reach all parts of the vehicle you are painting.
Bottom Line
The option for converting the Fuji Semi-PRO 2 paint sprayer from a gravity-fed gun to a bottom feed gun earns it a spot as the best paint gun over all the others on our list. 
You'll find the gravity system suitable for upright painting positions, while the bottom feed comes in handy for painting in angles and odd positions.
Pros
Fairly lightweight and easy to move around
Stainless steel passages to reduce chances of the needle tip rusting
Powerful two-stage 400-watt motor suitable for spray painting large cars
Has a fan control knob for adjusting pattern size between small and wide circular patterns
Can be converted from gravity feed to bottom feed system to make spraying tight places easier
Cons
Doesn't work with 220v plugs as it only uses 120-volt North American plugs
Neiko 31215A
Specifications
Feed Type: Gravity
Weight: 2.77 pounds
Working Pressure (PSI): 10
Flow Rate (CFM): 4.5
Capacity: 600cc
Nozzle Size: 1.7mm
We may earn commission from purchases made from our links, at no additional cost to you
Review
The Neiko 31215A HVLP gravity feed paint sprayer comes in handy for painting small cars given that it achieves up to 10 psi. It's also a highly durable model because of the all-steel body construction, which helps minimize rusting and boost sturdiness. 
The multi-size wrench the sprayer comes with is a great addition as it makes assembly and disassembly for cleaning easier. However, it doesn't fit all the bolts on the sprayer, making it necessary to buy another wrench. 
Bottom Line
If you only need to paint a small car or aren't a regular car painter, the Neiko 31215A paint sprayer is a great choice because of its rust resistance. You can easily keep it clean for a long time until you next need it, and this without running the risk of damage by rust. 
Pros
Super lightweight to enhance portability
Has 3 control valves to regulate the flow rate
Produces up to 10 psi suitable for spray painting small cars
All-steel body for rust resistance and enhanced durability
Easy to clean as it comes with a multi-size wrench and cleaning brush
Cons
Stock wrench doesn't fit all bolts
Requires buying a separate standard hose connection
Best Automotive Paint Gun for the Money
Astro Pneumatic Tool 4008
Specifications
Feed Type: Siphon
Weight: 3 pounds
Working Pressure (PSI): 50-60
Flow Rate (CFM): 7-12
Capacity: 1 qt
Nozzle Size: 1.8mm
We may earn commission from purchases made from our links, at no additional cost to you
Review
The siphon feed system of the Astro Pneumatic Tool 4008 makes it the perfect choice for reaching odd spots on the vehicle and painting using various angles since you'll be using an air compressor. 
One huge disadvantage with the sprayer is that you'll have to buy an air compressor, which introduces other expenses and wastage if you don't already have one or only need it for a one-time painting project. 
Bottom Line
A siphon feed sprayer is your best bet when you want to reach inaccessible vehicle spots you would otherwise have trouble reaching using a gravity feed or HVLP sprayer. However, with this specific sprayer, frequent refills will be necessary because of the low paint capacity.
Pros
Compact two-piece sprayer for easy portability
Lightweight sprayer easy to carry around the painting area
Siphon feed model ideal for reaching awkward vehicle spots
Adjustable to a fan width of 11 inches at 8 inches away from the surface being painted
Achieves 50 to 60 psi pressure hence suitable for medium-sized and large vehicles
Cons
Requires buying a separate 3 HP compressor
Low tank volume at only 0.25 gallons, making regular refills necessary
Best Automotive Paint Gun For Beginners
DeVilbiss 802405
Specifications
Feed Type: Gravity
Weight: 11.7 ounces
Working Pressure (PSI): 10
Flow Rate (CFM): 8
Capacity: 250cc
Nozzle Size: 1.0mm
We may earn commission from purchases made from our links, at no additional cost to you
Review
The DeVilbiss 802405 HVLP gravity feed sprayer comes in handy for a beginner looking for an easy-to-use paint sprayer for a small car or a few painting projects. It consists of two parts, making it easy for beginners to pair it with an air compressor. 
The chrome finish is a great addition for reducing rusting and enhancing the durability of the sprayer even when kept unused but clean for a long time. 
Bottom Line
DeVilbiss has cut a name for itself in the industry as a reliable producer of high-quality paint handling devices. The 802405 is one of its best, most beginner-friendly paint sprayers given its fewer components. 
If you are just getting started with car painting or only have a small car you want to paint, this is the right paint sprayer for you because of its ease of use. 
Pros
Suitable for painting small cars
Comes with a maintenance wrench and cleaning brush
Chrome plating finish that is resistant to rust and staining
Easy to disassemble and reassemble after cleaning and drying
Compact two-piece spray that is easy to use even as a beginner 
Cons
Tip bends easily
Doesn't come with a pressure regulator
Best HVLP Spray Gun For Automotive Paint
Master Pro 44
Specifications
Feed Type: Gravity
Weight: 3.27 pounds
Working Pressure (PSI): 26
Flow Rate (CFM): 16.4
Capacity: 1 qt
Nozzle Size: 1.3mm installed + 1.4 – 1.8mm
We may earn commission from purchases made from our links, at no additional cost to you
Review
The Master Pro 44 paint sprayer is a one-of-a-kind model given its elaborate design that accommodates a system of multiple tips, caps, and needles to allow spraying paints with varying thicknesses. 
The sprayer also has steel components that are less prone to rust even when you use the sprayer with waterborne automotive paints. This enhances its durability even when you store it unused for a long time. 
Bottom Line
The Master Pro 44 HVLP gravity feed paint sprayer is an excellent choice for a wide range of automotive paints. You can paint thin and thicker paint and waterborne automotive paints without worrying about the integrity of the fluid system. 
The sprayer uses a stunning set of matched tips, needles, and air caps to make it a great fit for painting both thick and thin automotive paints without the usual annoying clogs frequent when using substandard tips. 
Pros
Has steel components compatible with automotive waterborne paints
Has an adapter that makes it possible to use disposable paint cups
Has an air gauge regulator measuring and controlling pressure output
Comes with many extras such as 3 spray head sealers, extra filter, needles, nozzles, and cleaning brush
A set of four 1.3 to 1.8mm spray tips with matching air caps and needles suitable for handling heavy and light automotive paint coatings
Cons
Limited one-liter paint cup necessitates frequent refills
Different Types of Spray Guns for Automobiles
You'll come across different types of paint guns for cars, each type with its good share of advantages and disadvantages that you need to consider before the purchase. Here are some common types:
Gravity Car Paint Guns
A gravity gun relies on gravity to work effectively. It consists of a small paint container mounted on the top. The paint flows through gravity and is atomized before being ejected through the nozzle with the help of compressed air. 
Gravity guns are prevalent and are a favorite among most beginners because they are easy to use. However, they are more expensive than siphon guns. 
Siphon Car Paint Guns
A siphon gun relies on a vacuum to draw paint up from the paint container. The container is mounted on the underside of the gun. A lot of compressed air is required for the siphon gun to suck up the paint and eject it through the nozzle. 
The main advantage of a siphon gun is that it can be used to spray in awkward angles and non-upright positions, such as painting parts in a car's underbelly. This is possible because the gun relies on high-volume compressed air rather than gravity. 
HVLP Car Paint Guns
"HVLP" stands for "High Volume – Low Pressure" and refers to an auto paint gun system that ejects a high volume of misty paint at low pressure. HVLP paint guns are an excellent choice for their precision, minimal overspray, and high-quality smooth finishes.
Understandably, the type of gun you choose will depend on the type of project and your preferences. If you paint many cars in a week, you can choose an HVLP gun for its higher spraying speed. 
For a one-time car painting project, a simple and less costly paint gun will suffice.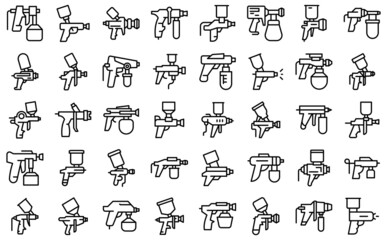 Benefits of Investing in a Quality Automotive Paint Sprayer
Are automotive paint guns worth it? What do you stand to gain when you buy one? Below are some major benefits of investing in an automobile paint gun.
Paint Sprayers Save You Time
It's a fact that paint sprayers can save you a lot of time to dedicate to more painting work or other projects. Given their ability to eject paint at high pressure and high speeds, you will spend less time spray painting a vehicle than if you painted with a brush. 
Smoother, Finer Finishes
Despite the usual overspray problem, you'll achieve a smoother coat and a finer finish when you use an auto-paint sprayer. The secret is to find a great model, use the right settings and paint, and keep perfecting the craft with time.
Paint sprayers eject paint in mist form as a thin stream of tiny droplets that produce a thin, mark-free coat once they settle on the car's surface. With good hand control, you can spray a series of thin coats with minimal overspray and no dripping. 
Better Access to Tight Spots 
Imagine painting a car's underside and other hidden spots with a paintbrush! You will have a lot of trouble reaching the parts if you do manage that at all. 
With an auto paint gun, you can reach these tight spots and paint them with ease and zero paint wastage. You only need to have a small room for the spray stream to penetrate, thus minimizing the trouble of finding the thinnest paintbrush around.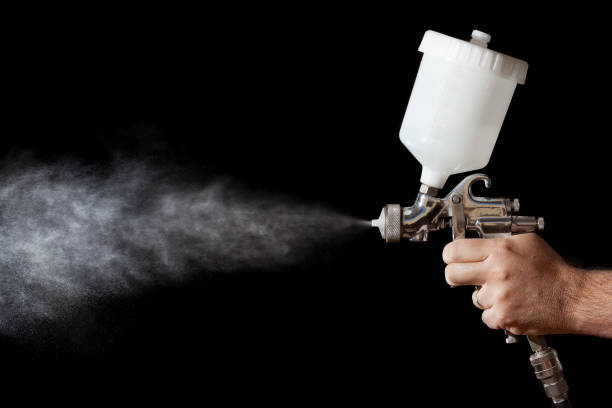 Price Points of an Automotive Paint Gun
Many companies are producing different models of paint sprayers with varying features, which means that there will always be varying prices for different models. How much should you expect to spend on an automotive paint gun?
Under $50
A lower price doesn't mean the models in this category are of poor quality. It may mean they have less superior features and, as simple paint guns, will need pairing up with other devices such as an air compressor. 
A great model in this price range is the 0.25-gallon Astro Pneumatic Tool 4008. 
$100 – $250
Models with more superior features such as multiple tip systems and high rust resistance will fall in this category. DeVilbiss 802405 and Master Pro 44 are excellent examples within this price range. 
$400+
While there aren't many paint guns in this range suitable for automobiles, the Fuji Semi-PRO 2 is an excellent buy at over $400. It allows you to switch between gravity feed and bottom feed styles for more painting flexibility. 
Conclusion
While the automotive paint gun you choose will depend more on the type of project at hand and your preferences, it's important to consider other aspects such as the gun's weight, size, hose length, flow rate, feed system, and room for adjustability. 
A gravity feed system will be easier to use as a beginner, and then you can buy an HVLP sprayer later once you perfect your craft and have more vehicles to paint regularly. 
People Also Ask
Here's a quick discussion on some common questions people ask about spraying automobiles with paint guns. This section is meant to help deepen your understanding of the subject, with the hope that we have answered any burning questions you may have. 
How Does An Automotive Paint Sprayer Work?
An automotive paint sprayer uses compressed air to atomize paint into a fine mist and eject it onto the spraying surface through a nozzle. The sprayer may use a motorized pump, turbine, or air compressor to generate the required pressure for atomizing and ejecting paint.
 
Painting a car with a sprayer works best on the principle of electrostatics when the car is grounded and has a positive charge. The ejected paint has a negative charge acquired when it rubs against the insides of the gun. The difference in charges causes the paint to stick to the car's body. 
Can I Use An Electric Spray Gun To Paint a Car?
You can use an electric spray gun to paint your car. Electric HVLP spray guns are easy to find on the market, but you have to be keen on the cord's length. 

A short cord will only be a nuisance since you won't always have a flexible power extender to enable you to go around the vehicle conveniently. But electrical sprayers with super long cords are hard to find, making such a paint spray gun, not the best option. 
How Much Air Does An Automotive Paint Gun Need?
An air compressor with an output of about 50 to 90 psi will be ideal for spray painting a car.